Indah Water is the sewage company responsible for sewage piping and processing in our area. I would have guessed that 99% of people don't pay their Indah Water bills, even though it's only RM96 (Oh! and now plus 6% GST) per year, billed quarterly in arrears. The philosophy seems to be "why pay it, they can hardly disconnect your house from the sewage mains". I have been until today one of the 1% who have paid their Indah Water bills (normally 12 months in advance).
So Indah Water, bless their hearts, decided to introduce a customer appreciation campaign to encourage more people to pay promptly which was widely advertised on the radio along the line "pay your bill upto date and in advance and we will give you a gift!". The advert is the story of the wife who never pays her Indah Water bill telling her husband she's off to pay it. He asks why, and she explains by paying her bill on time she is going to get a free gift. What they don't tell you in the advert is that it's not that simple. There are some hidden T&Cs.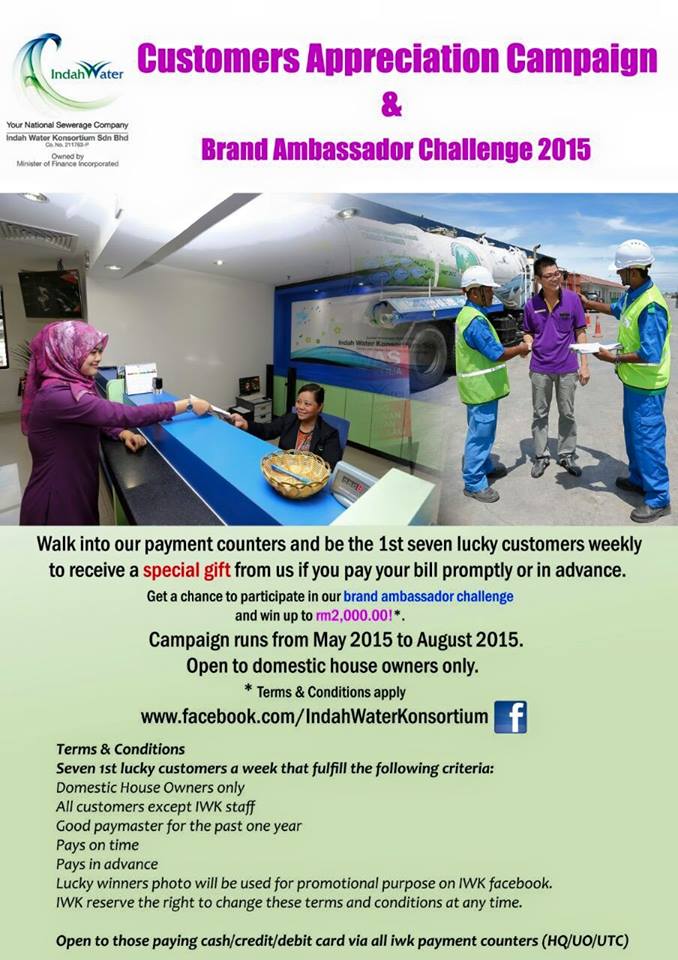 So I went into Indah Water today to pay off the arrears and pay in advance through to next April. The girl at the counter sweetly processed my payment of RM134.00. But said nothing about the gift. I felt sure as a regular payer I would be getting something. So I asked where my gift was. I was told that I wasn't eligible for a gift because I had missed a payment back in 2014. I protested the stupidity of a campaign to encourage people to pay their bills, but there no way was I to be given a gift (it turns out it's an umbrella – probably worth around RM15). I was so incensed that I had the girl reverse the entire payment. I decided to be one of the 99%. No point to pay the arrears. Let alone 10 months in advance.
As I was leaving I mentioned to the girl on the counter that I didn't expect that she had given out too many umbrellas. She proudly told me she had given out around 100!! Indah Water undoubtedly have at least 1 million customers. Seems my original estimate that of 99% of customers don't pay is more like 99.999% of customers who don't pay.
This has to be the most I'll thought out customer appreciation campaign ever. Not only are only 0.0001% of their customers going to get a gift but customers like me who did pretty much pay on time and mostly in advance are now going to be so incensed at not getting their gift that they are going to join the 99.999% who don't pay at all!!