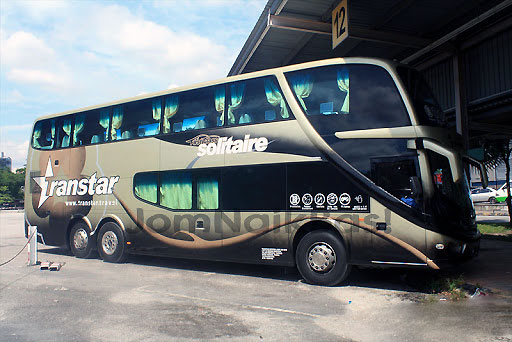 A SHORT STORY – with a moral – "stick to what you know you will like" 🙂
Sean always encourages me to try new things as he says I am boring because I normally tend to stick with the "tried and tested", whether it be food, travel or life in general.
On this occasion I was coming back from Singapore but could not get on the Aeroline bus I normally travel on, so thought I would try something new and seemingly more luxurious. The "cover" of this new "book" looked good – so with Sean's wisdom in mind I thought lets give it a go and booked seat 7 on the Transtar Solitaire Bus from Singapore to KL!
The "content" however belied the "covering"! And so the tale unfolded….
I arrived at the Transtar Golden Mile Complex in Singapore at 7pm for the 7.30pm SOLITAIRE (a level above First Class I had been assured; and at least 2 levels above the normal Aeroline offering) bus to KL amidst the background noise of F1 grand prix cars.
7.30pm arrived and passed….no bus! 7.45pm arrived and passed….. still no bus. Clearly punctuality was not the Transtar strong point… still I was in a mellow mood and prepared to be forgiving … perhaps it was the F1 road closures and resulting traffic chaos which explained the delay. Certainly Transtar wanted us to believe that 🙂
Eventually the bus arrived….. 8.10pm. Boarding was quick and smooth – well why wouldn't it be? We didn't need to wait for last minute passengers who were running late did we?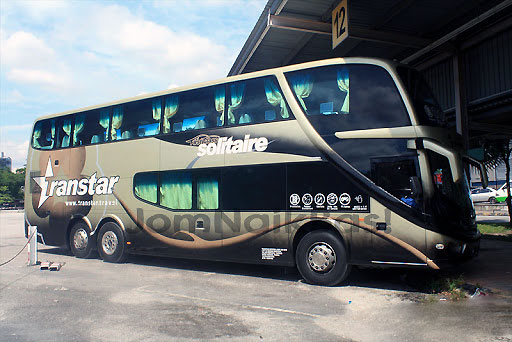 The bus takes off and I thought "great, sit back and relax – 30 mins to the Singapore immigration"
But no – 10 minutes later we are wending our way, not along the Singapore expressway, but in some subterranean bus park. Hmmmm…… We have to collect some random passenger it seems. Never did work out why he got special pick up treatment!!
Off again. This time without further detours or delays. Singapore immigration – smooth as. Only 16 people on the bus – the odds of losing a passenger significantly reduced!! Its a common problem trust me!!
Malaysian immigration even smoother and again no lost passengers!! Things are looking up!
So off we set for the 3 1/2 to 4 hours journey to KL. What can go wrong. Done it a million times. Doze, txt, read, watch a movie. All in all anticipating a relaxing ride after a few early but not too distressing hurdles.
Food – well typically bus food is a few notches below airline economy food – quite a few notches to be honest. So the upward trend continued when the bus steward delivered a really very nice cup of hot tea followed by a briani rice and chicken dish. Presentation wasn't masterchef standard but the taste sure was yummy!!
So the next to hours passed pleasantly watching the Legend of the Guardians …. the Owls of Ga'hoole. Well its for kids!!
Next scheduled stop Muar Services – 11pm. 20 minute scheduled stop completed … and we are off again.
Next stop KL – 2 hours away. Finish the movie and doze off.
Why are we stopping again. Maybe someone needs a toilet stop. Nope – bus steward announces the bus is "broken". All off please. So off we pile.
But to what end. We will have another bus here in 30 to 40 minutes we are told. Wait patiently. No bus appears. Other coaches coming in and out, but not a single Transtar one.
So after 45 mins we are offered the choice of a bus where we would have to stand for the first 15 minutes which was going to Putrajaya (well thats what I thought they said) – turns out my Malay comprehension is not the best, and they actually said Puduraya – in retrospect I should have gone with that option – however by the time I realised the error of my ways (and comprehension) the bus had pulled out and was leaving.
Not to worry they said – here is another bus. You can go on this one and it will drop you off at Sungai Besi Toll Plaza. Not ideal, however the alternative seem to be to hang around the rest stop for some indeterminate amount of time.
The bus line is KKKL – never heard of them before, still the seat is comfortable enough. Only sour note was i had to put my bag blocking the aisle as the bus driver was not about to open up the baggage storage for a mere "non paying hitch hiker".
By now its 12.30am.. and off we set again.
Im feeling cold. And getting colder!! Investigation leads to the overhead vents which are pumping our arctic air in vast quantities. Attempts to quell the air flow are fruitless. Nothing works. Hypothermia looms!!
1.40am. Barely conscious and by now a partial icicle, we pass by Seremban making good progress – perhaps 30 minutes to go. Yippee – almost home.
Oh no we are slowing down – traffic jam on the express way at 1.45am? Unlikely! But this is Malaysia. So perhaps it is possible I guess possible.
We grind to a halt. Blue flashing lights ahead some indeterminant distance away. Ambulance trying to squeeze by. Accident ahead!!
And there we sat for the next 2 hours!! Getting progressively closer to hypothermia!! Teeth are chattering. Skin temperature dropping alarmingly.
Mean time Sean is sitting at the Sungai Besi Toll Plaza, reluctant to proceed further to do the needed U turn some 5 km ahead in case he gets trapped in the same "jam".
4.00am. The bus lurches forward – we are off again. The obstacle/accident appeared to involve a tree across the express way, not sure if it include any vehicles. I have to hope it did, as 2 hours to move a tree to one side and at least open one lane seems a little inefficient on its own.
Anyway we are finally moving and the drop off is imminent. I better get my bags ready. Oh no my back pack is soaking wet. How on earth has that happened. I look down and to my horror find the the bus floor is awash………. hmmmm.
Eventually I am reunited with my darling at Sungai Besi Toll Petronas station and so the journey ended with the final 30 minutes of the journey completed in comfort under the guidance of our Papago GPS.
Im not sure what the moral of the story is. Certainly its a litany of unfortunate circumstances strung together, each one of which whilst individually unassociated, were in terms of time, where one delay push us into the path of another delay.
And if you have read this far …………. then I am amazed!!
xxooxx